GIFs are fun, digestible, and, most importantly, relatable — that's why everybody loves them and shares them on social media so much.
And since Instagram is the top social media platform for visual content, your followers expect your brand to post more compelling content than the photos of your company's complimentary lunch each week.
Your audience want to feel something when they scroll through Instagram, and GIFs can forge that emotional connection with them.
Below, we'll show you how to post a GIF on Instagram — with a series of GIFs — and share some of the social network's best GIF apps.
How to Post a GIF on Instagram
Open GIPHY
Search for a GIF
Press the More Options button that's next to the Facebook Messenger share button
Press the Instagram share button
Here's a series of GIFs that will show you exactly how to post a GIF on Instagram:
Open GIPHY
Search for a GIF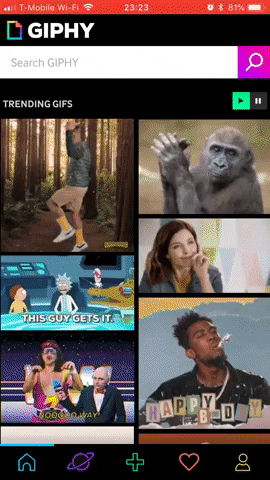 Press the "More Options" button and then press the "Instagram Share" button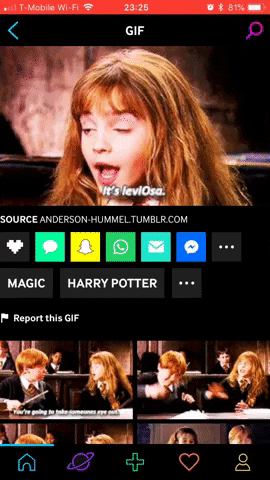 Post the GIF to your Instagram story or feed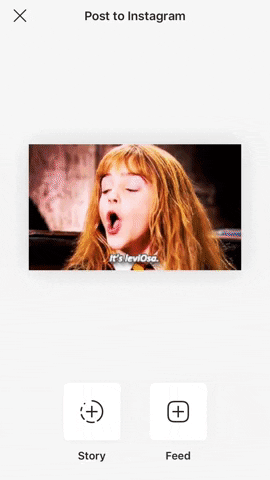 The 6 Best Instagram GIF Apps
GIPHY has the world's largest library of animated GIFs and stickers.
Free on IOS and Android
4.7/5.0 Rating
On Giphy Cam, you can record your own GIFs and add filters or special FX to them.
Free on IOS and Android
4.8/5.0 Rating
ImgPlay lets you turn your own videos, live photos, photos, and burst photos into GIFs or videos. You can also add captions and filters to your GIF, edit its frame sector and order, and control its frame speed and direction.
Free on IOS and Android
4.7/5.0 Rating
With GIF Maker, you can convert your photos or videos into GIFs, Boomerangs, and memes.
Free on IOS and Android
4.6/5.0 Rating
Momento lets you use your live photos and videos to create GIFs and stop motion videos. You can also add augmented reality, filters, music, stickers, effects, text, and zoom to them.
Free on IOS and Android
4.6/5.0 Rating
Apple featured Gifnote on their "New Apps We Love List" last year. And it was included for good reason. The app has a licensed music library full of modern and classic hits that you can add to their collection of GIFs or your own created GIF. But if you don't feel like making your own GIF-music combination, you can just select and send one of their trending Gifnotes to your friends.
Free on IOS
4.8/5.0 Rating